ML191: Andrew Warner on Insights from 2000+ Interviews, How To Stop Asking Questions & Learning Anything from Anyone
Discover an expert interviewer's lessons on learning anything from anyone, based on 2000+ interviews. Learn how to ask tough questions & rescue bad conversations as well as strategies for building a business around interviews.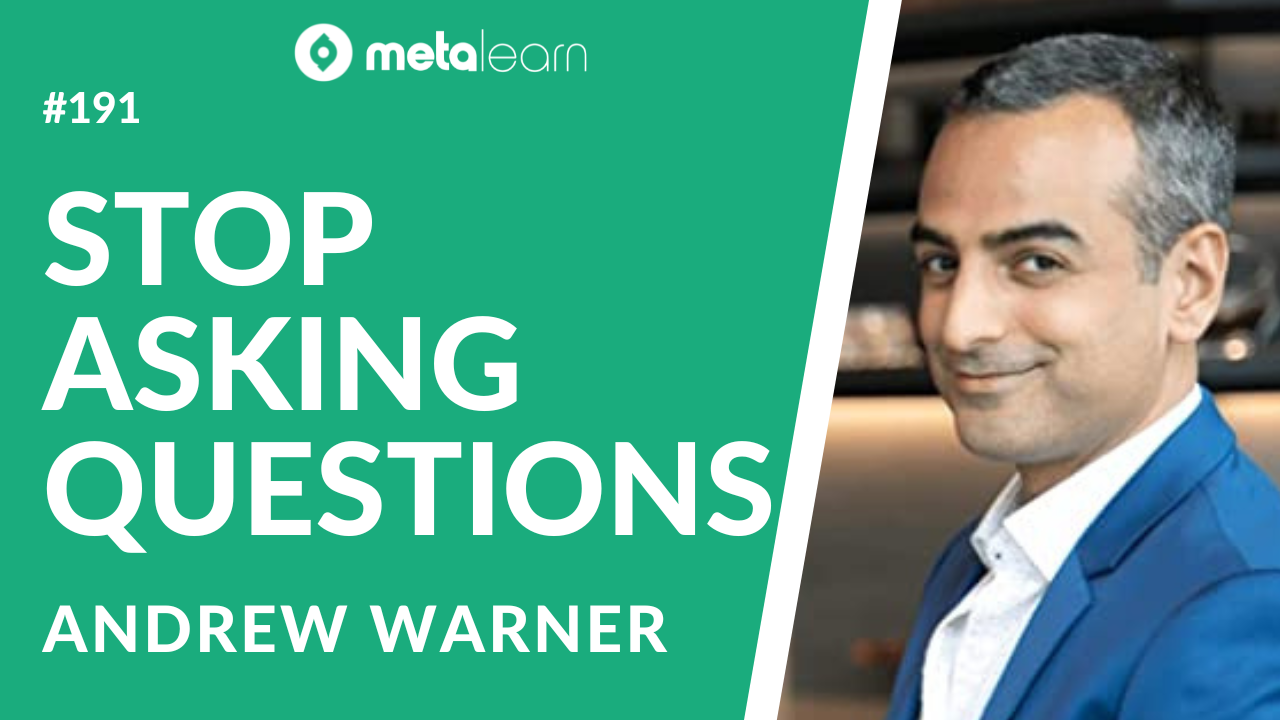 Andrew Warner is an entrepreneur, author and the founder of Mixergy, a platform where he interviews some of the world's top founders including those from Wikipedia, Groupon, LivingSocial, LinkedIn, and over 600 others.
Almost anything you want to do in life has been done before, so the knowledge you need to achieve your goals is in other people's heads.

That's why interviewing is such a powerful skill. But, there's a lot more to it than just asking questions. To do it right, you need to be part researcher, part storyteller and part therapist.
Andrew has interviewed over 2,000 of the world's best entrepreneurs for his multi-million dollar podcast business Mixergy and recently codified his process in his new book Stop Asking Questions: How to Lead High Impact Interviews and Learn Anything from Anyone.
I really believe every ambitious person should add interviewing to their learning stack, whether you're a podcaster, entrepreneur, journalist, or lifelong-learner - and Andrew is the perfect person to show you how.

In this episode, we discuss:
- Andrew's lessons on learning anything from anyone, based on 2000+ interviews
- How to interrupt someone, ask tough questions, and rescue bad conversations
- Strategies for building a thriving business around interviews based on Andrew's experience turning Mixergy into a multi million dollar company

We also discuss how Andrew improved his interviewing process over time, what he learned from some of his interviewing heroes like Charlie Rose, and the key mistakes to avoid for new interviewers.
Show Notes
Introducing Andrew [00:51]
Why is it important for an interviewer to be receptive to change? [02:17]
What was Andrew's interest growing up and how did he explore his curiosity? [04:11]
When did Andrew realise the importance of asking questions, especially in business? [05:09]
How can you persuade people to be excited about the idea of interviewing as a means to learn? [07:50]
What mental preparations does Andrew make before an interview? [10:35]
How valuable are pre-interviews in getting the most out of the actual interviews? [11:40]
What is Andrew's rationale behind his interviewing technique of putting words in other people's mouths? [13:20]
How and when does Andrew figure out and decide the category of an interview? [15:11]
What experience does Andrews compare doing interviews to? [18:12]
What does Andrew do to help him unwind? [19:10]
From Andrew's observations, why do entrepreneurs find it hard to relax and take some time off? [20:33]
At what stage of his interviewing career did Andrew hire an interview coach? What has he learned from the experience? [22:29]
How does Andrew approach an interview when the guest has something to promote? Whose needs does he prioritise most? [25:48]
What is a shoved fact? When does Andrew know to pursue a shoved fact during an interview? [29:27]
What are some practical steps to take when an interviewer wants to learn from the guest without seeming clueless and needy? [32:24]
Why is interrupting actually an important thing to do during conversations? [39:00]
How did Andrew decide to transition his free content and interviews into a paid membership system? What has he learned from the process? [41:12]
How do you create masterclasses that people would pay for? [44:44]
What possible concerns are there when commercialising someone's knowledge from an interview? [47:22]
Who is Andrew's interviewing hero and what lessons has he learned from them? [49:34]
How do you save a bad interview? [50:56]
How much work goes into decoding someone's process and turning them into a step-by-step method? [52:28]
What is Mixergy's approach to marketing? [53:41]
In what ways can you repurpose an interview into different valuable assets? [54:54]
What are the key things to avoid doing when you're starting out with your own podcast? [58:50]
Closing remarks [01:00:58]
Resources
Follow Andrew online