ML190: Demetri Kofinas on The Rise of Financial Nihilism, Understanding Narrative Investing & Building a Modern Media Business
Discover how 9/11, the Iraq War & the 2008 Financial Crisis shaped our world, the rise of financial nihilism and how to build a profitable, honest media business in a post truth world.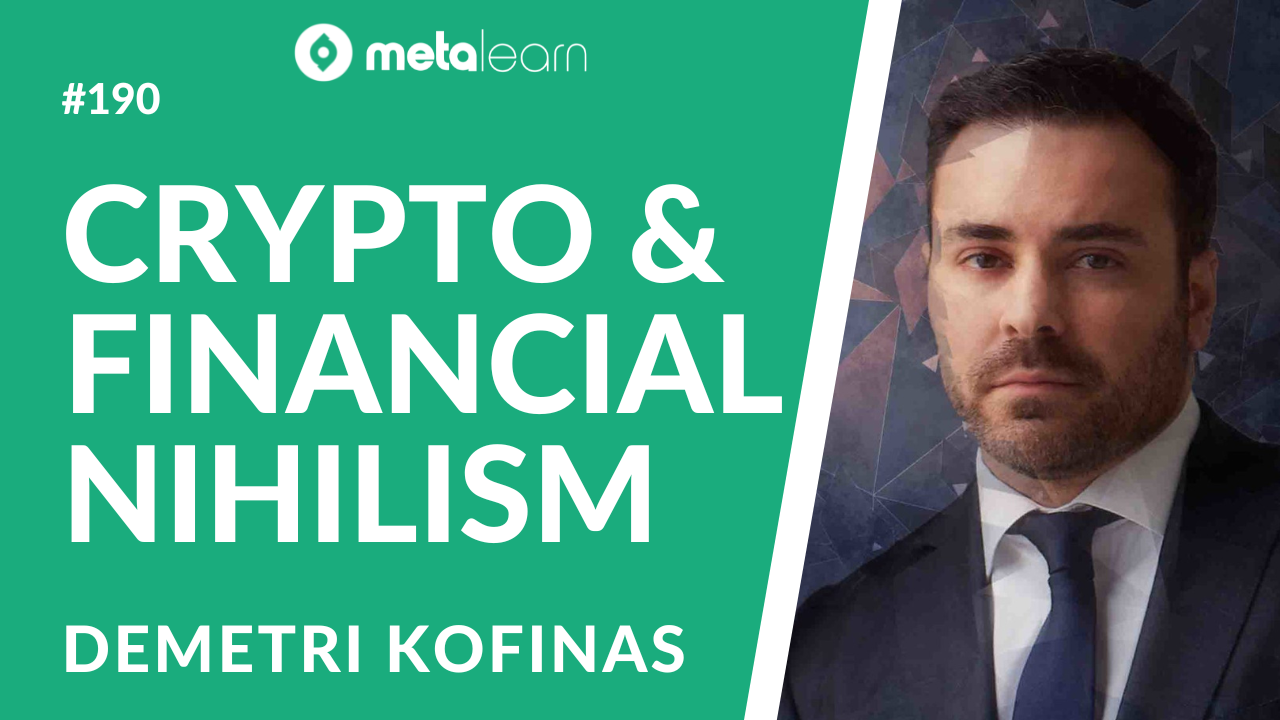 Demetri Kofinas is a media entrepreneur, financial analyst and the host of the Hidden Forces podcast, a weekly show that explores the forces driving the biggest changes in the world.

In a world of information overload, how do you make sense of things?

Whether it's getting an accurate view of the news or choosing where to invest your savings, it's never been harder to figure out what's actually going on.

Mainstream media has failed us and the internet is full of charlatans selling their own brand of misinformation but fortunately, there are still some people doing real quality journalism to help us make sense of things and today's guest Demetri Kofinas is one of them.

Demetri has interviewed some of the most interesting thinkers in science, technology, finance, politics, and culture on Hidden Forces and is was previously the founder of a popular blog, a NYC radio show and a daily live TV program, Capital Account which reached hundreds of thousands of viewers worldwide.

In this episode we discuss:
- The key events that have shaped the modern world including the fallout from 9/11 and the 2008 Financial Crisis
- The rise of what Demetri calls 'financial nihilism' and how it's playing out in asset markets including crypto
- How to build a profitable media business with integrity in a post truth world

We also talk about Demetri's recovery from a brain tumour that almost completely wiped his memory, the pros and cons of the different forms of media, the power of memes in crypto and much more.

Demetri is one of the most interesting multidisciplinary thinkers I've come across so if you're looking to understand what's going on in this crazy world of ours, this episode has you covered.
Show Notes
Introducing Demetri [00:27]
What was school like for Demetri? How did his interest in philosophy begin? [02:07]
Demetri recalls his experience studying at NYU during the 9/11 attacks [04:32]
How did the 9/11 attacks change the way Demetri saw politics and institutions? [06:48]
What did having a brain tumour teach Demetri about the mind and memory? How did his tumour affect the way he saw and interpreted the world? [09:29]
How Demetri's brain tumour led him to pursue a career in media [12:19]
What are the differences between television and radio for someone who's worked in both? [15:36]
What did starting his own theater company teach Demetri about great storytelling and spontaneity? [21:11]
How does the 2008 financial crisis lack of market-clearing still affect the markets we have today? [26:00]
How has Demetri's view on central banks changed since working at Capital Account? [28:48]
What is the idea behind financial nihilism? [30:53]
How does social media contribute to the idea of financial nihilism? How do we maintain a sense of reality amid the rise of the digital world? [33:31]
Is it possible to create communities and unique identities within financial markets without market nihilism? [38:38]
What questions should people be asking around cryptocurrency and digital wealth accumulation? [43:58]
What fundamental problem is the crypto space currently facing that can potentially lead to its demise? [46:02]
How does Demetri approach his investments in crypto? [48:36]
Why trading is the best way to get the best insights about the financial markets [52:13]
What mental models does Demetri use to deal with scammers and toxic personalities in his field? [58:02]
Why sticking to your core values matters in the crypto space [01:03:23]
What are the current opportunities Demetri is considering for Hidden Figures podcast? How does he assess them? [01:05:48]
Is sense-making a teachable skill? [01:11:38]
How valuable is it to identify trends and invest in them early? Should people focus on that idea when choosing their career paths? [01:16:49]
How has Hidden Forces helped Demetri find his way in the world? How has his relationship with it changed over time? [01:23:07]
For Demetri, what is the most reliable way to generate income? [01:24:56]
Closing remarks [01:27:27]
Resources
Follow Demetri online
Hidden Forces Podcast | Patreon | Twitter
Hidden Forces episodes