ML187: Larry Grobel on The Art of the Interview, Lessons from Hollywood Stars and Writing Great Stories
Discover the art of a great interview from one of the world's best, techniques for building rapport fast to make people feel comfortable and the principles for great storytelling.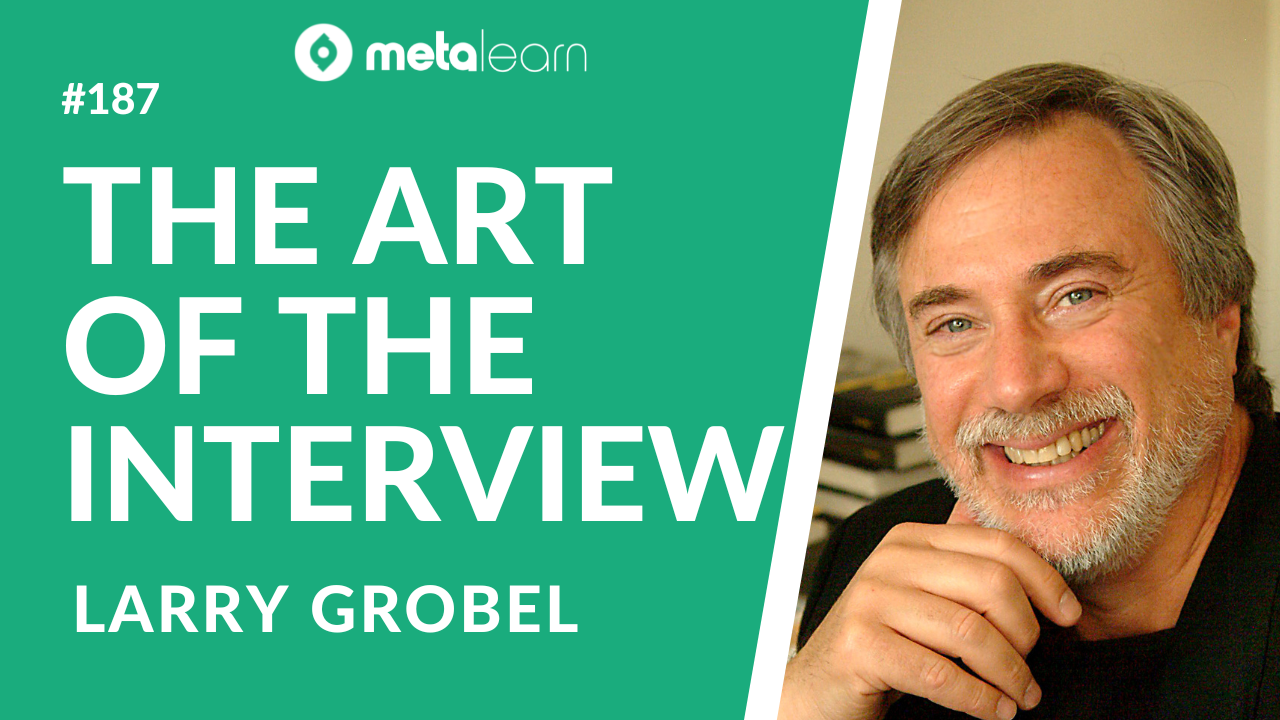 Larry Grobel is a writer and interviewer who has interviewed every big name in Hollywood from Robert de Niro to Nicole Kidman, Al Pacino to Angelina Jolie.
If you could interview anyone in the world, who would it be?
Maybe it would be an Oscar-winning actor or a Nobel laureate? What about a Pulitzer Prizewinning writer, a world class athlete, or an era-defining musician?
Those all sound great to me - but what about the person that gets to interview all of those people and learn from them?
Well that person is on the show with me today. Larry Grobel has spent his career getting some of the world's most famous people to open up and talk to him.
He is the author of almost 30 books including his own short stories, an autobiography You Show Me Yours and his book on interviewing called The Art of The Interview.
Hailed as the Mozart of interviewers and  "the Interviewer's Interviewer," Larry has interviewed every big name in Hollywood along with musicians like Luciano Pavarotti and artists like Henry Moore.

In this episode we discuss:
- The art of a great interview informed by Larry' work with the world's biggest stars
- Techniques for building rapport fast to make people feel comfortable and open up
- Larry's principles for great storytelling that he's used in his writing & interviewing

We also talk about Larry's 10 days on Marlon Brando's private island, how Dolly Parton fell out with him when he almost interviewed Charles Manson, his close 30 year friendship with Al Pacino and his controversial interview with former Indiana basketball coach Bob Knight that ended in physical violence.
There are so many great stories in this one, it's hard to keep count but I guarantee that you'll find this entertaining and learn a ton from Larry about the creative process, great writing and storytelling and asking questions that get people to open up.
Show Notes
Introducing Larry [00:24]
Where did Larry get the inspiration for the short stories that he's written during the pandemic? [02:17]
Are writers born or created? How did Larry realise that writing is his passion? [06:02]
How did James Joyce redefine the limits of literature the way no one else has? [09:31]
What is a common mistake people make when doing interviews? [12:29]
The important lesson Larry learned from his interview with Elliott Gould [14:12]
Did Larry have to pause his writing to make way for his career as an interviewer? [17:25]
Among all the interviews Larry has done, which ones had an unpredictable outcome? [21:06]
Why did Larry walk out of his interview with Robert Mitchum? [23:35]
How do you strike the balance between challenging the interviewee and maintaining the 'schnookiness' of the interview? [28:39]
Who's the darkest person Larry has interviewed? Who is one person he'll never interview? [31:15]
How did Charles Manson change the dynamics of interviewing famous people? [32:02]
What questions would Larry ask Charles Manson? What angle would he have taken if he ever interviewed him? [35:52]
What inspired Larry's book "Yoga? No! Shmoga!"? [38:42]
Did any of the stars Larry interviewed have weird spiritual practices? [40:54]
How does Larry know when to bring jokes and humor into the interview? [42:46]
What was Larry's relationship with Al Pacino like? [47:14]
Why does Larry want to do Playboy interviews again? Who would he interview? [51:28]
How has the art of interviewing changed over time? [52:05]
What did Larry think of Oprah's interview with Harry and Meghan? [54:07]
Why does Larry think the Queen should open up about her thoughts and ideas? [56:21]
Is Oprah a good interviewer and influence? [58:18]
Who does Larry want to play as Brando in his screenplay? [01:00:19]
Closing remarks [01:01:22]
Resources
Follow Larry online