ML181: Visa Veerasamy on Reframing Your Ambition, Marketing Your Work and Becoming a Citizen of The Internet
Learn how to to reframe your ambition so you can succeed your way, how to create content that makes money & connects you to your tribe and how to market your work without selling out.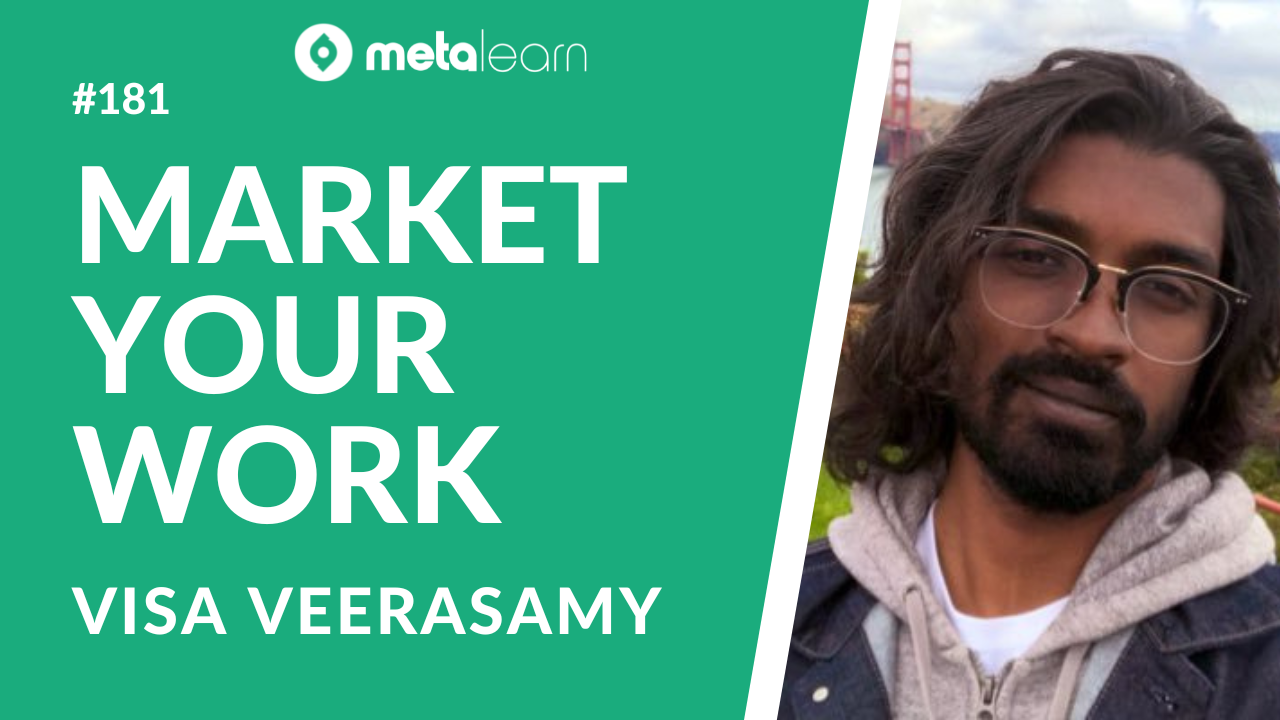 Visakan 'Visa' Veerasamy, is a true citizen of the internet. He is a creator, marketer and the author of two books, Friendly Ambitious Nerd and Introspect. He's also known for his elaborate, interwoven Twitter threads and epic blog posts on pretty much every topic under the sun.

How do you get the most out of the internet?

When it's so easy to get lost down useless rabbit holes on YouTube or doomscrolling on Twitter, it's easy to forget what a miracle the internet is, especially when you actually take advantage of the benefits.

The internet allows you to connect to anyone anywhere. It allows you to share your ideas with the world, to test them and improve them. It enables you to start a business for a global audience and separate your income from your time. Increasingly, people are meeting friends and collaborators online – the list goes on and on.

Visa has spent a lot of time thinking about how to use the internet well and walking the walk as a creator, so he's the perfect guide in this conversation. In this episode, we cover:

- How to reframe your ambition so you can succeed your way
- How to create content that helps people, makes money and connects you to your tribe
- How to market yourself and your work without selling out

We also discuss Visa's experience growing up as a child of multiple worlds, turning ADHD into a superpower, and the importance of creative scenes like the Golden Age in Ancient Greece and the Renaissance.

Visa is one of the most interesting and unique thinkers I've come across online so I'm sure you'll get a lot out of this conversation.
Show Notes
Introducing Visa [00:22]
How did growing up as a minority in Singapore's multicultural society shape Visa's perspective of the world? [01:59]
When did Visa first realise that he was good at something? How did this affect his attitude? [04:04]
What was the 'outsider' experience like for Visa in the different scenes he spent time in? [06:50]
How does Visa think about ADHD and the conversation surrounding it? Does having a label help people process it better? [11:12]
How do you deal with ADHD on a practical level? [16:21]
Why is it important to have a growth mindset when thinking about your skills and your ability to work and function? [21:15]
How has Visa's relationship with ambition evolved over time? How does he define the term today? [24:49]
How does society perceive ambitious people? [31:13]
How should you communicate your ambition to the world? [36:20]
How do you distinguish the people who genuinely share your ambitions from the people who only seek the prestige of the ambition? [39:06]
What does Visa consider to be his first creative scene? How did it serve as a guide to his subsequent creative ventures? [42:30]
How do you strike the balance between staying true to ancient wisdom while constructing something that is fresh and exciting? [47:04]
How does the performative element of marketing sit with the genuine desire to create? [58:51]
What role does the audience play in creating and developing art? [01:01:42]
How do you keep your sense of perspective when your work gets praised and recognised? [01:03:19]
How did Visa build an audience that is engaged and interested before delving into more snackable content? [01:09:55]
What do you get from answering other people's questions? [01:12:11]
What makes a good remote video conversation? How do you bridge the gap between in-person and online conversations? [01:14:22]
Why should people should be more receptive to connecting with others? [01:19:16]
Closing remarks [01:21:32]
Resources
Follow Visa online