ML178: Rob Fitzpatrick on Writing Useful Books, The Secrets of Sustainable Entrepreneurship and Disrupting the Publishing Industry
Discover a 4-part system for writing useful books that uses the principles of product testing by using beta readers, business lessons on pursuing entrepreneurship sustainably and why the publishing industry is ripe for disruption.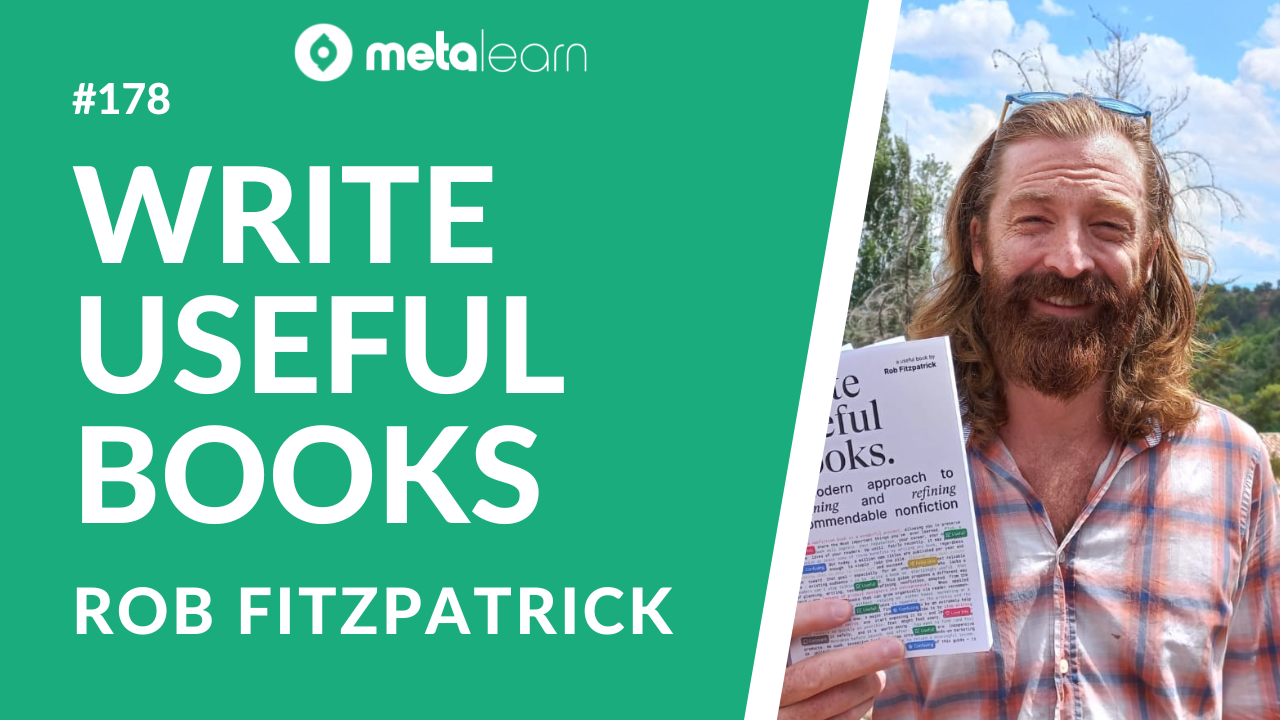 Rob Fitzpatrick is an entrepreneur and the author of Write Useful Books, which outlines a process for creating more reliably successful nonfiction.

He is best known for his book The Mom Test on customer development for introverted techies and has also written The Workshop Survival Guide, on education design.
‍
The common thread between all of his work is making things people want. Whether we're talking about a non-fiction book, a workshop or a software business, the mistake almost everyone makes is staying in their head and making something people don't want.

Rob's philosophy starts with talking to people, listening to them and figuring out what their problem actually is. The next step is building a simple prototype as a solution and if that works, you're probably onto something.
‍
In this episode, we discuss:
- Rob's 4-part system for writing useful books that uses the principles of product testing
- The common mistakes to avoid in getting and implementing feedback from beta readers
- The business lessons Rob has learned from a decade and a half of entrepreneurship

We also cover the publishing industry and Rob's plans to disrupt it. This episode will give you a system for writing great non fiction that solves readers' problems and give you an insights into running an entrepreneurial career in a sustainable way.
Show Notes‍

Introducing Rob [00:38]
Why beta testing is the key to writing a book people want to read [02:06]
How do you set expectations when taking risks? [05:01]
Why you shouldn't fight back against criticism and negative feedback [07:15]
How can entrepreneurship be sustainable? [08:43]
How Rob realised that he wanted to focus on writing and publishing books [10:52]
What makes books a good product for Rob's personality? [16:02]
Why is it important to define who a book or a product is not useful for? [19:31]
What core learnings did Rob take away from writing three best-selling books? [25:01]
Who is the ideal beta reader? Why would people want to be a part of a beta reading community? [28:52]
How to add value to your book's table of contents [32:00]
How do you keep readers engaged while sustaining value throughout the book? [34:48]
What is audience goodwill? How can creators use this to their product's advantage? [38:02]
What factors should authors consider in the presentation of their book? [39:45]
How do you build an engaged community? How do you deliver value to community members who have different contexts? [43:35]
Why focusing on solving a specific problem for a specific person can add to a book's 'recommendability' [50:09]
The most useful books for Rob on a range of topics and what they have taught him [53:02]
How did Rob and his business partner create an unconventional win-win business relationship? [55:52]
Rob shares how his relationship with Lyst Founder Devin Hunt developed [01:00:41]
What are the differences between the traditional publishing industry and emerging publishing companies? [01:03:56]
How valuable is new media content to marketing books? [01:09:53]
How do you get useful and data-driven feedback for emerging media formats like podcasts? [01:12:34]
Can you remove the interviewer from a beta testing service? [01:14:32]
Closing remarks [01:15:50]

Resources‍‍

Follow Rob online