ML144: Anna Gát on Building an Intellectual Community, Escaping Utility Tyranny and Facilitating Great Conversations
Discover how to build a thriving intellectual community, the best approaches to facilitating great conversations and how to avoid utility tyranny by choosing what not to optimise.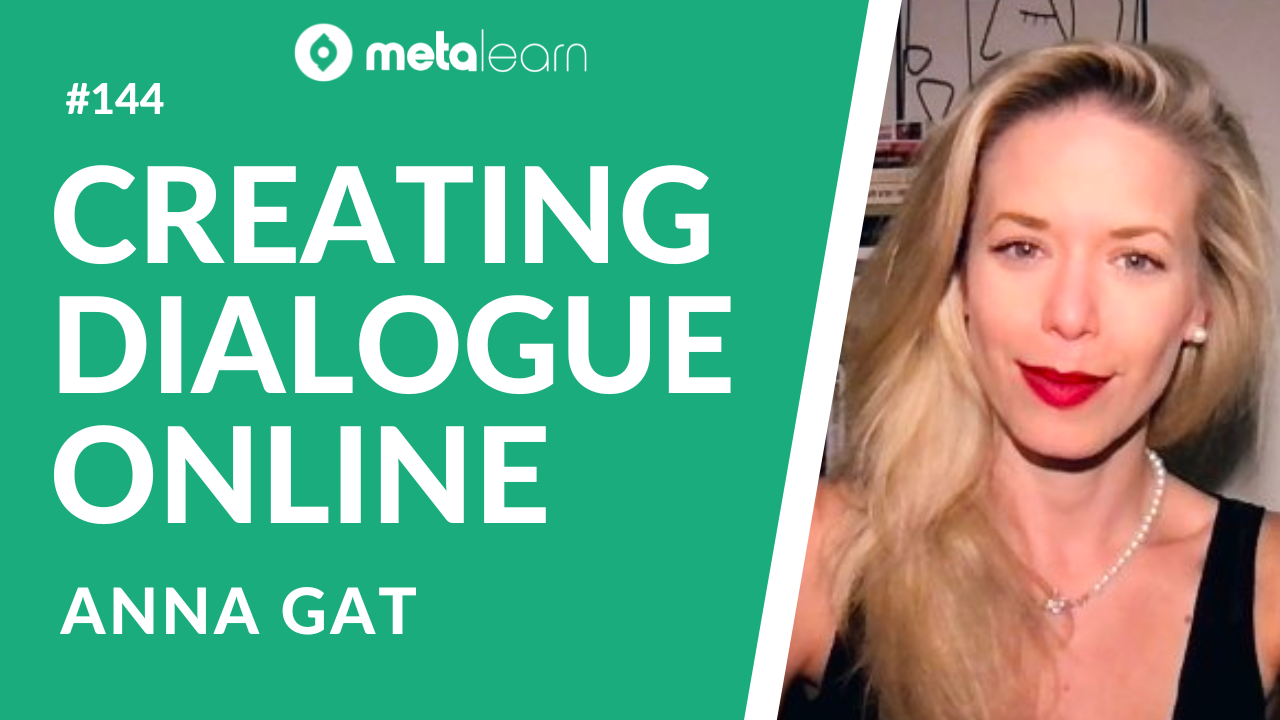 Anna Gát is the founder of the Interintellect, a global community and talent platform for public intellectuals that facilitates great conversations around anything and everything.

What this means in simple terms is that any member can host a conversation on a topic of their choice, allowing them to share their passion with curious minds and make money from the ticket sales as well. All events are currently online but pre COVID they hosted salons in real life in cities all over the world including London, New York, Los Angeles, Brussels, Berlin and Mumbai.

Anna has one of the most diverse backgrounds of anyone I've ever had on the show...and that's saying something. She holds masters degrees in philosophy of art, English, and theatre; she has worked as a writer and journalist, editor and translator, screenwriter and playwright; and she co-founded Hungary's leading women's rights platform and also won a Glamour Woman of the Year award.

She then founded her first startup in early 2017 which, through many iterations, has grown into the Interintellect. In this conversation we discuss:

- How to build a thriving intellectual community and the inspiration behind the Interintellect
- Why utility tyranny based on the idea that everything in our life has to be optimised or made more efficient is so harmful and how to combat it
- The approaches and processes involved in facilitating great conversations

We also talk about Anna's educational experience which included managing Hungarian rockbands and her favourite lockdown books and podcasts.
Show Notes‍

Introducing Anna [00:47]
Anna shares her early beginnings in life, her personal influences, and the epiphany that ultimately led her to explore philosophy [04:07]
What experiences did Anna have while studying for a master's degree in Philosophy of Art and English? [07:44]
How do we process knowledge? What conditions enable cognitive optimisation? [10:07]
What is utility tyranny and how does it manifest in our daily lives? How do we avoid having a utilitarian mindset to fully exercise our agency and freedom? [14:48]
How does Anna apply the anti-utility tyranny mindset to her own life? [19:09]
What personal and professional experiences led Anna to create Interintellect? What problem does Anna intend to solve with her organisation? [20:57]
When building a community that revolves around having conversations, does the community dictate the values shared among members, or are they prescribed? [26:03]
Building trust in the community, understanding generational differences, verbalising similarities, and bringing the best out of people [26:43]
Who and what is the ideal Interintellect community member? [29:43]
What are the most important qualities for someone facilitating a conversation? Anna questions how social media has made respect for other human beings illicit [34:34]
How does Anna make use of today's different social media platforms? [37:52]
What are the different discussion boards within Interintellect? How does the Interintellect community interact and create a diverse pool of members? [39:32]
Rapid-fire questions for Anna [43:23]
Resources
‍

📄 We're a Niche, We Just Didn't Know
📖 Mating in Captivity - Esther Perel
🎧 Kara Swisher interviews 'Leonardo da Vinci' biographer Walter Isaacson‍