ML133: Julian Treasure on Lessons from 5 TED Talks, The Audio Revolution and How to Speak so that People Want to Listen
Learn how to speak so that people want to listen through tried and tested tips from a veteran of five TED talks. You'll also hear about the future of audio and what the current revolution in this medium means for you.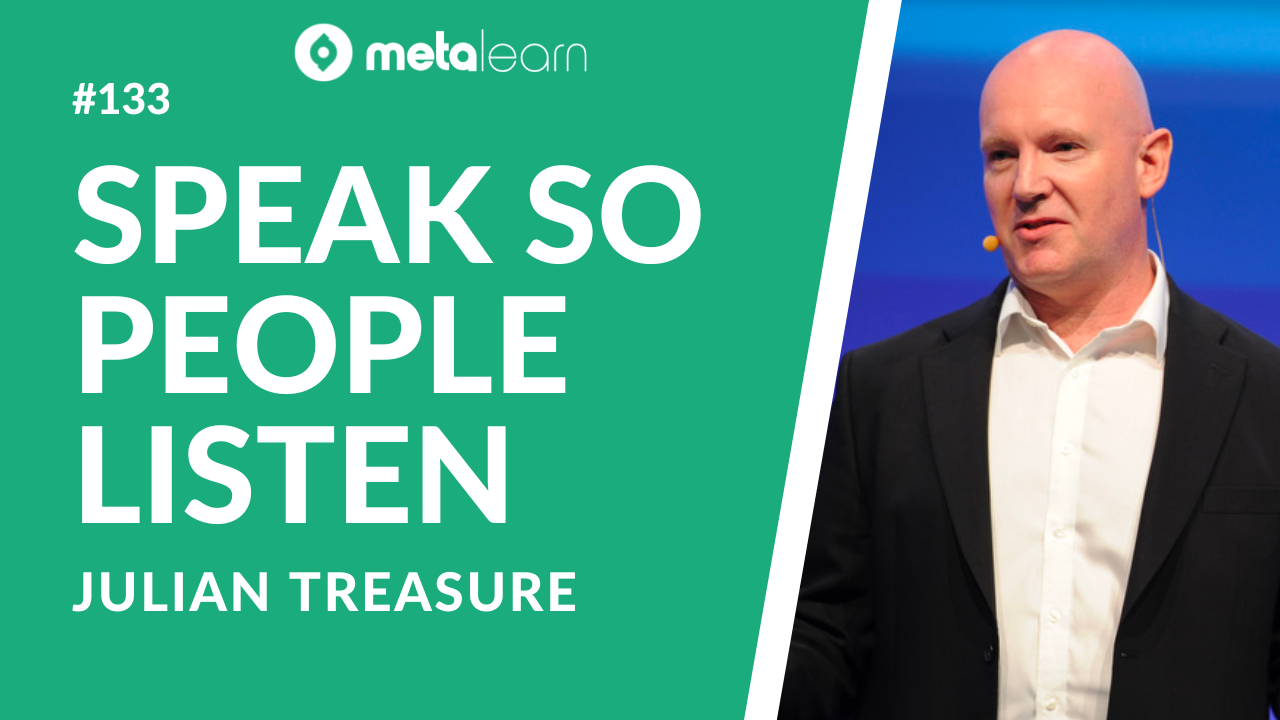 Julian Treasure is sound and communication expert, acclaimed TED Speaker and the founder of The Sound Agency.

Julian's five TED talks have been watched more than 80 million times and his latest is in the top 10 of all time. He is author of the books How to be Heard and Sound Business and recently released an online course, under the same name as his most popular talk - How To Speak so That People Want to Listen.

He's also the founder of The Sound Agency a company that works with some of the world's biggest brands to improve their sound.

I had Julian on the podcast almost 3 and a half years ago and the main focus there was on using sound to improve your life and effective listening techniques – go and check out episode 29 if you're interested in that.

In this episode we discuss:

- How a recent health scare has altered Julian's perspective on life and work
- Julian's tips for effective public speaking, based on his five TED talks
- The future of audio and what the current revolution means for you

We also talk about Julian's approach to creating his online course and how he learns from the experts he interviews. Julian is a true master of his craft so if you're looking to improve as a communicator and speak so people listen, you'll get a lot out of this episode.
Show Notes‍

Introducing Julian [00:39]
Julian shares recent personal decisions and changes [02:24]
What ideas around the power of human voice does walking around the Ring of Brodgar bring up for Julian? [04:41]
How has Julian's recent health issue changed the way he sees and lives his life? [07:17]
How does Julian evaluate the speaking engagements he accepts? What is his decision-making process? [09:46]
Like in Julian's course 'How To Speak So That People Want To Listen', how do you find the balance of ideas between different mediums when creating an online course? [12:15]
What makes one an expert in sound and communication? What are the key components that result in mastery of any subject? [15:48]
How do you strike the balance between learning from someone you're interviewing while listening to them intently? [19:27]
What has Julian learned about the act of listening from his interactions with renowned percussionist Dame Evelyn Glennie? [21:49]
What preparations should you make when speaking in public? How can you constantly improve your public speaking? [25:15]
Who is the voice in our head? How do we listen to this voice in a way that improves us as people and as speakers? [30:29]
How does Julian see the future of voice and audio technology? How is he adapting his work on The Sound Agency to this developing tech? [32:54]
Closing remarks [36:33]
Resources


📖How to be Heard: Secrets for Powerful Speaking and Listening
▶️ Video Course: How to Speak so that People Want to Listen‍